Research Study on People and Culture [Take the Survey]
Dates
21/03/2023 - 31/10/2023
In collaboration with The TCM Group and The People and Culture Association (PCA), a research team comprising students at Bayes Business School, City, University of London, is supporting the development of a toolkit to help organisations transition from a Human Resources (HR) function to a People and Culture function.
The aim of this project is to understand the
✅a) antecedents to
✅b) the process of, and
✅c) the impact of the transition from HR to people and culture.
You are kindly invited to join PCA's Research Survey.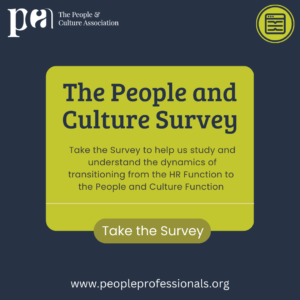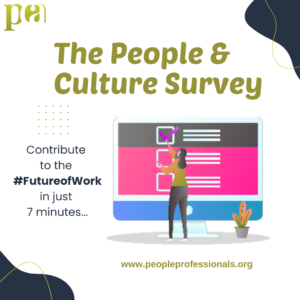 Ultimately, the study will help develop a toolkit, based on existing theory, evidence-based research, and practical processes being implemented by HR and People and Culture professionals. The goal will be to present these findings to organisations considering this change to People and Culture.
---
We will be providing updates on the survey responses at our Culture Conversations…
Got a query? Write to [email protected]
Dates
21/03/2023 - 31/10/2023